usmile U3 Micro Bubble Ultrasonic Electric Toothbrush Teeth Whitening Sonic Toothbrush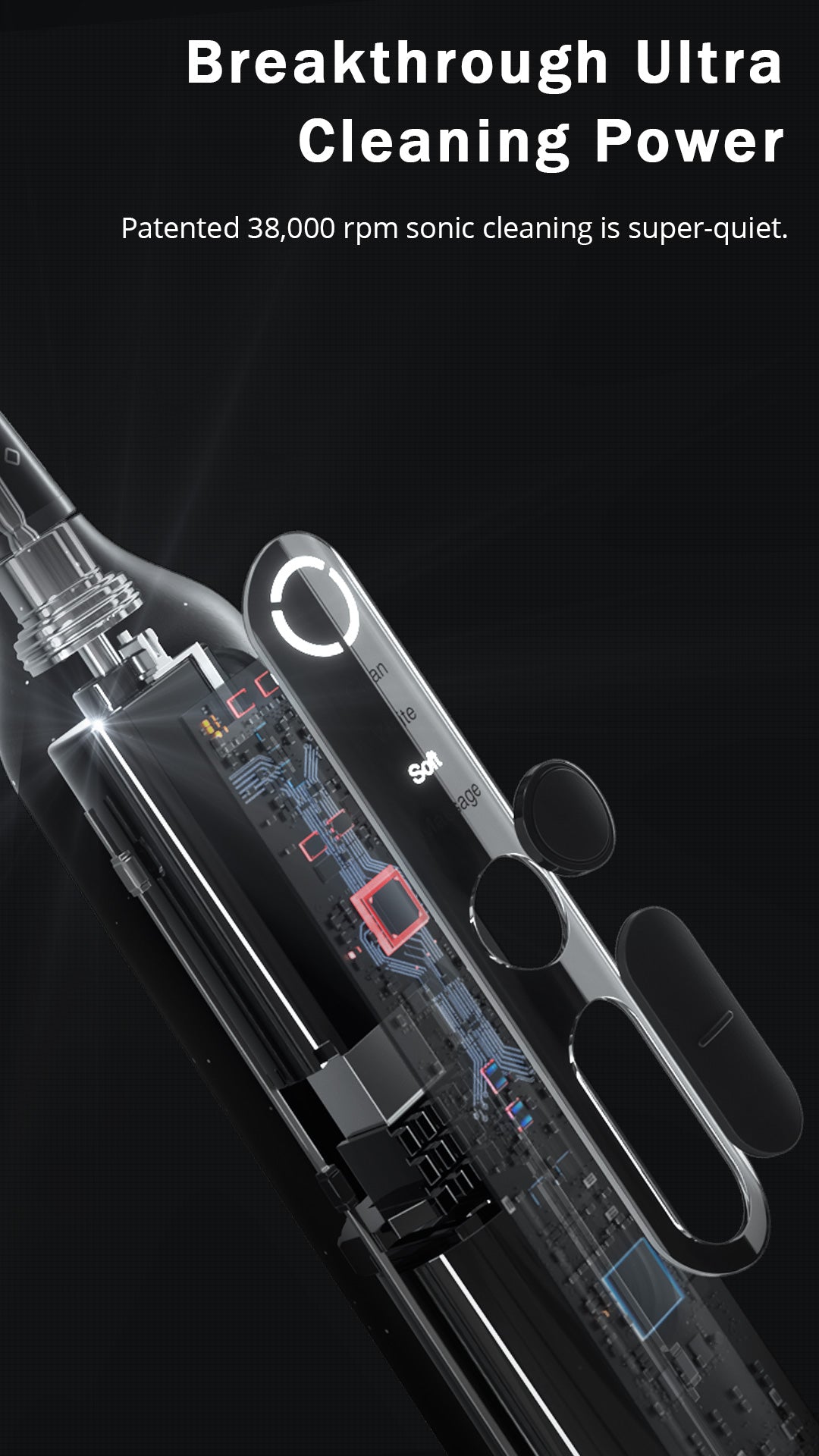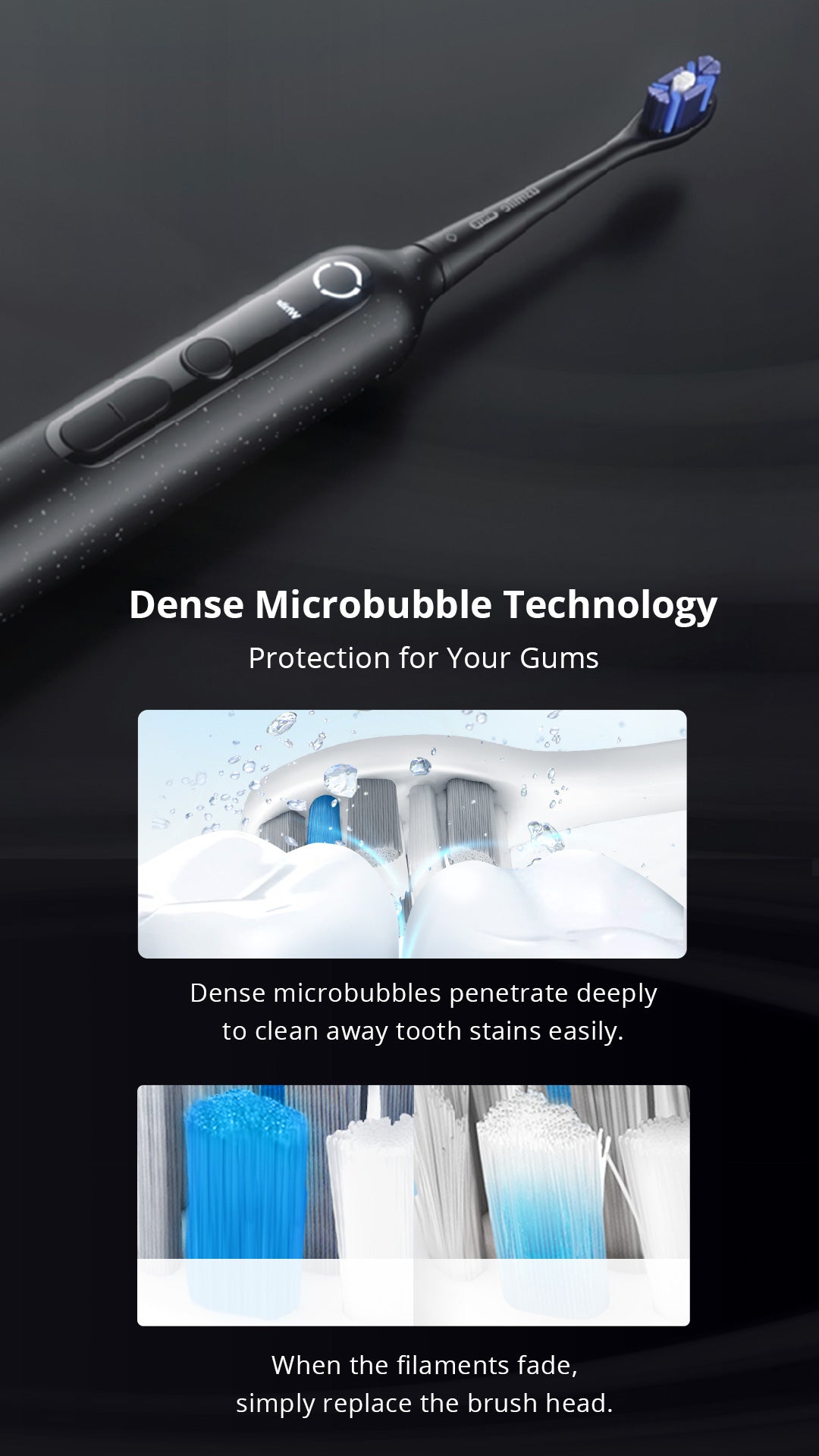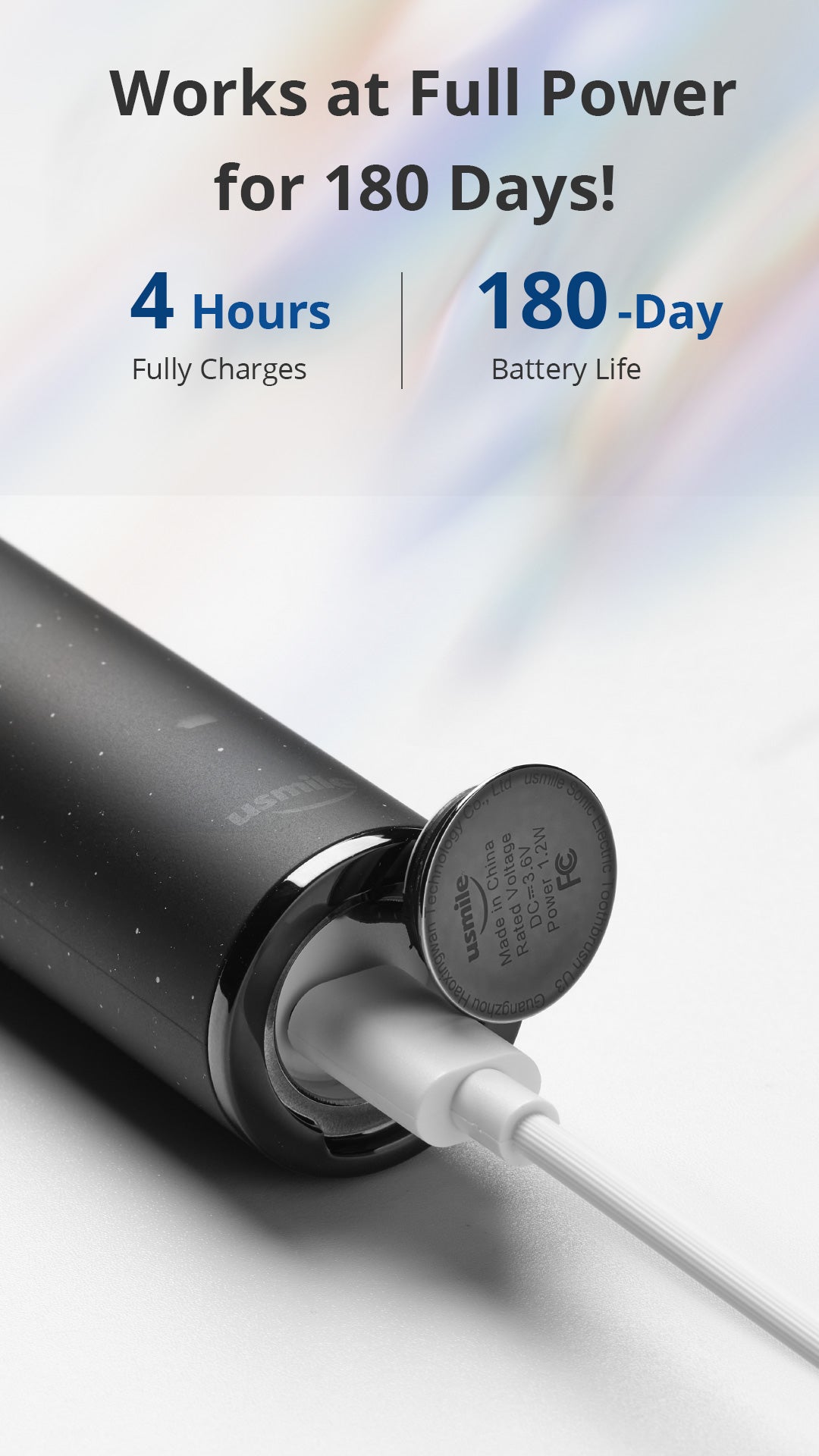 Meet Y10 Pro
Intuitive screen. Trackable gleam.
usmile Y10 Pro sonic electric toothbrush adapts to tooth shape for effective plaque removal with a smart screen displaying 24/7 plaque buildup, while offering an oral map and ensuring 6-month runtime with its patented features for long-lasting teeth, enamel, and gum protection.
24/7 Smart Screen
Observe real-time brushing effects and plaque removal progress.
Responsive Brushing
Experience bass brushing technique, no learning required.
6-month Runtime
Forget about charging for up to 6 months.
24/7 Smart Screen
Stay on track. Brush like a pro.
Y10 Pro features an informative screen that displays an oral map and a 2-minute timer, guiding you during brushing. The 24/7 plaque reminder provides intuitive insights into plaque buildup between brushings, helping you to build a healthy oral care routine.
2-minute Timer

The large colored screen includes a timer to calculate brushing time automatically.
Feedback on Missed Areas

The built-in colored screen displays an oral map after brushing, helping prevent missed spots.
24/7 Plaque Reminder

With an impressive battery capacity, the Y10 Pro estimates plaque growth after each brushing, prompting users to brush again.
Feedback on Plaque Removal Progress

The Y10 Pro's colored screen provides instant feedback on remaining plaque, enabling users to adjust their brushing for thorough cleaning.
Responsive Brushing
Dental brushing done automatically.
Everyone brushes differently so the results may vary. Y10 Pro optimizes brushing by adjusting its movement and vibration to match your brushing style, delivering up to 440%* brushing efficiency.
*440%: compared to manual toothbrushes.
Outer Surface
Outer Bristles: Regular Motion
Mid Bristles: Regular Vibration
Covers more surfaces.
Upper Surface
Outer Bristles: Small Motion, Strong Vibration
Mid Bristles: Strong Focused Vibration
Intensely cleans v-shaped pits and grooves.
Inner Surface
Outer Bristles: Big Motion
Mid Bristles: Strong Vibration
Deep into the gingival margin.
6-month Runtime
Uninterrupted use for half a year.
Enjoy the freedom of brushing without limits, with an extended runtime of up to 6 months*. The Type-C charging port ensures compatibility with your electric devices, making it perfect for travel.
*6 months: tested with twice-daily brushing for 2 minutes each.
6-month Maximum Runtime

Y10 Pro can operate for up to six months without requiring a charge, enabling users to effortlessly maintain a healthy oral cleaning routine. This convenience ensures your teeth remain gleaming and your breath fresh, even during travel.
Type-C Charging Port

With its Type-C charging port, the Y10 Pro becomes compatible with most electronic devices. Plus, when it needs a charge, there's no need for an extra charging cable, making it the perfect toothbrush for maintaining a bright smile and traveling light.
First-tier Bristles
Brush with a grain of science.
The FDA compliant bristles release fluoride ions to strengthen enamel. With a minimum of 90% roundness, they enhance gum protection and also act as a reminder for timely brush head replacement.
90% Minimum Roundness

Filaments are at least 90% round to safeguard gums and enamel.
Fluoride-infused

Releases fluoride ions for enamel strength.
Reminder Bristles

Fades gradually as a reminder to replace the brush head.
Smart Gum Care
Feel the gleam, and gleam only.
Enjoy numb-free brushing with patented residual shock absorption and air cushion brush head. The pressure indicator helps to avoid overpressing, and the intelligent pressure control adjusts frequency and intensity in real time.
4 Cleaning Modes
Multiple modes for your needs.
The default smart mode, utilizing auto adaptation, is capable of covering most needs. However, Y10 Pro goes further with additional modes including clean, white, and soft, providing specialized care.
Smart Mode

Let Y10 Pro choose the intensity for you.
Clean Mode
White Mode
Soft Mode
Worry-free Brushing
Brush with confidence, even in water.
Brush worry-free with the Y10 Pro. It's waterproof (IPX8 rated) and designed to reduce toothpaste mess. No need to stress about water or splatters during brushing.
Anne Stedman Recommends
"My new favorite toothbrush."
AdaywithDestiny Recommends
"It's pretty cool that you can continuously track your plaque status after brushing your teeth."